Monster Factory Pro Wrestling Birthday Parties just got better! We know, hard to believe! The parties are now for children, teenagers, adults, and even for those who can't make it here!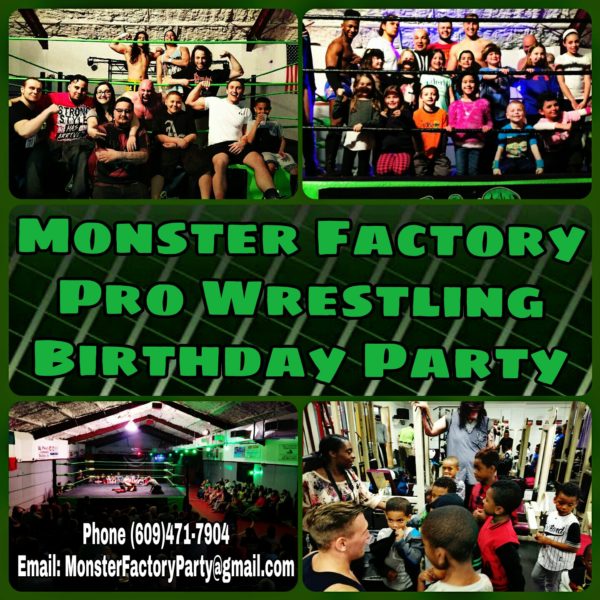 Monster Factory Pro Wrestling Parties! A Junior Party Package and a Big Monster Package! Each party is 90 minutes long! But what is the difference?
The Junior Monster Party Package does not include and pizza or drinks, no tickets to a show, no Monster Factory Fun Pack. This party is for up to twenty participants in the ring. This party is $275 and requires a $125 security deposit at check out. 
The Big Monster Party Package includes three large cheese pizzas, 20 drinks, 5 tickets to a future show, an autographed picture, and a Monster Factory Fun Pack.  This party is $400 and requires a $200 security deposit at check out. 
Times available for Junior and Big Monster Parties are Saturday ONLY when The MFPW is not having events. The event schedule is below. Times for parties are as followed: 11am, 1pm, 3pm, 5pm, 7pm 
*Please be sure to call (609) 471-7904 to schedule your party or for any other party questions!
Friday Night Party! This is a Prime Time Party on a Friday Night and is only available at 7pm or 9pm. It includes everything in The Big Monster Party Package. This party is $425 and requires a $225 security deposit at check out.
*You can have as many spectators as you'd like. Only 2o can participate in the actual in ring activities. All participants must have a waiver signed by a parent or guardian. Sorry, no refunds but we will help you reschedule your party if need be.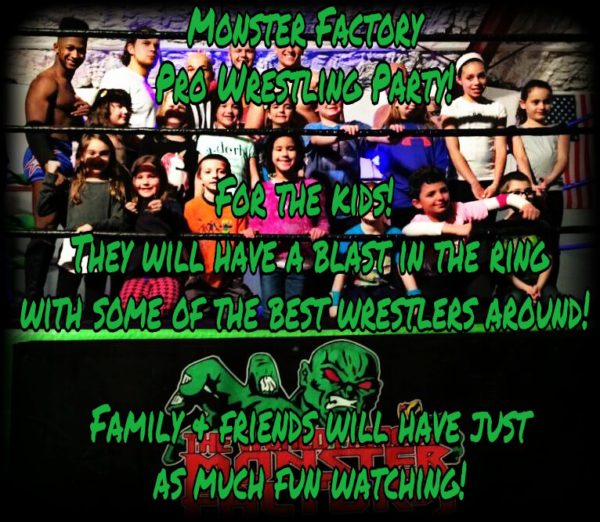 A Monster Factory Crate? What is this? This is perfect for the Pro Wrestling Fan who can not make it to The World Famous Monster Factory for a Party! The crate includes a Monster Factory Fun Pack (one backpack, tumbler, 2 wristbands) The crate also includes 2 or more DVDs from The MFPW and a six month subscription to TheMFNetwork.com. A $80 value for only $29.99 and we ship it directly to your house!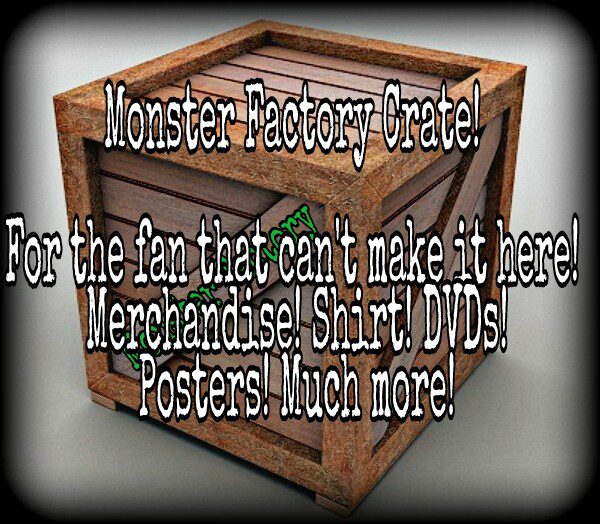 The VIP Party Package can only go down during an event by The MFPW at the World Famous Monster Factory and is very exclusive and limited! What is included? Up to ten tickets to the event. Your very own section including table(s) & chairs. A Monster Factory Party Pack for the guest of honor. A waiter or waitress to take orders and deliver them to your table during the event. During the event the Birthday boy or girl will be escorted into the ring for picture opportunities and the crowd will sing Happy Birthday to them! Last but not least, the entire VIP Party will have backstage access during and after the event to get autographs and pictures with the stars of The MFPW! (food & drinks not included) This party package is $600 and requires a $300 security deposit at check out.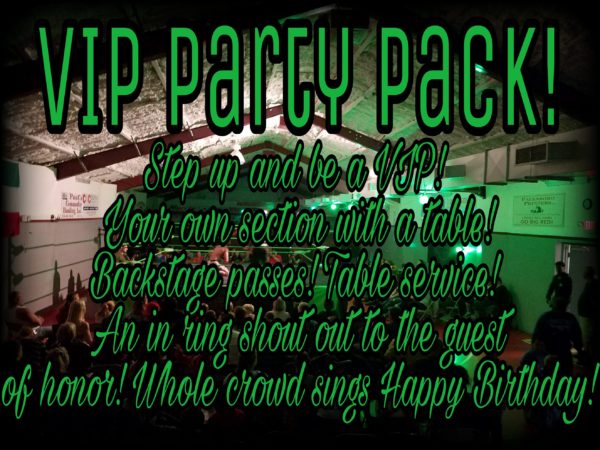 The Boot Camp Tryout is the perfect option for the more grown up wrestling fans out there! Want to go through an official tryout to become a member of The World Famous Monster Factory? Want to learn a few moves? Get suplexed? Or just have a good workout while having some fun? This is for you. We can customize this experience for all fitness levels! Perfect for Bachelor and Bachelorette Parties. This party package is $600 and requires a $300 security deposit at checkout.
*The Boot Camp Tryout is good for up to 20 participants. Please call to schedule your time and date. (609)471-7904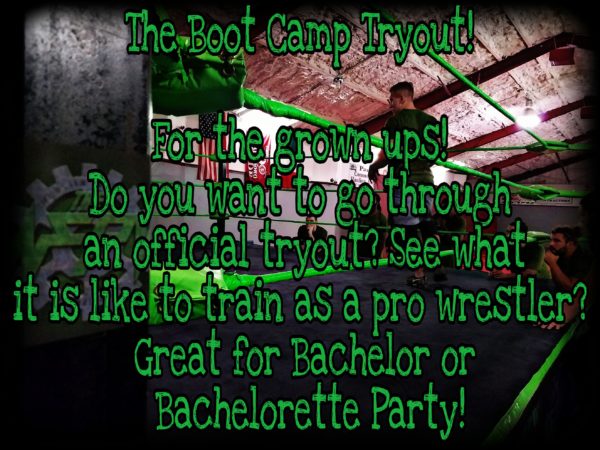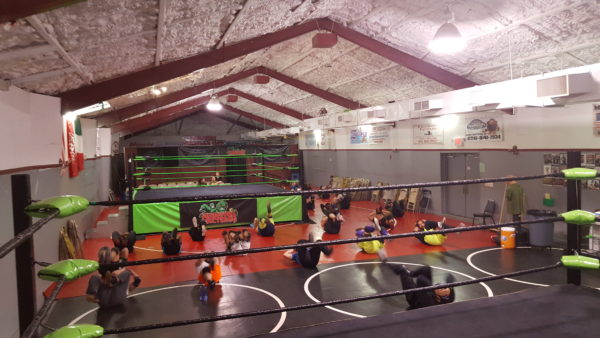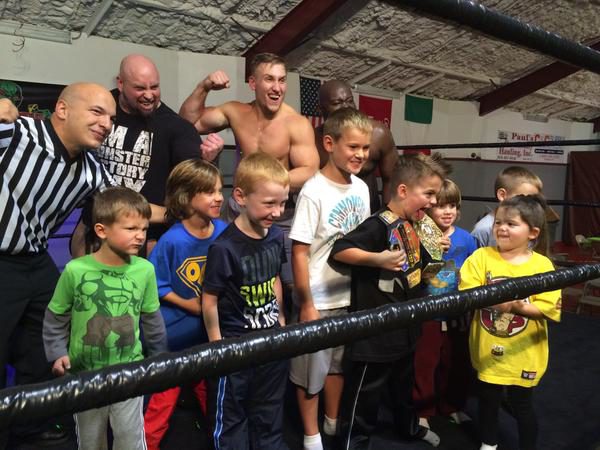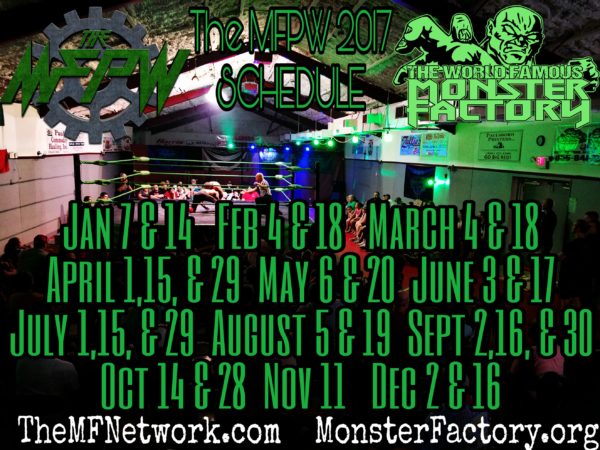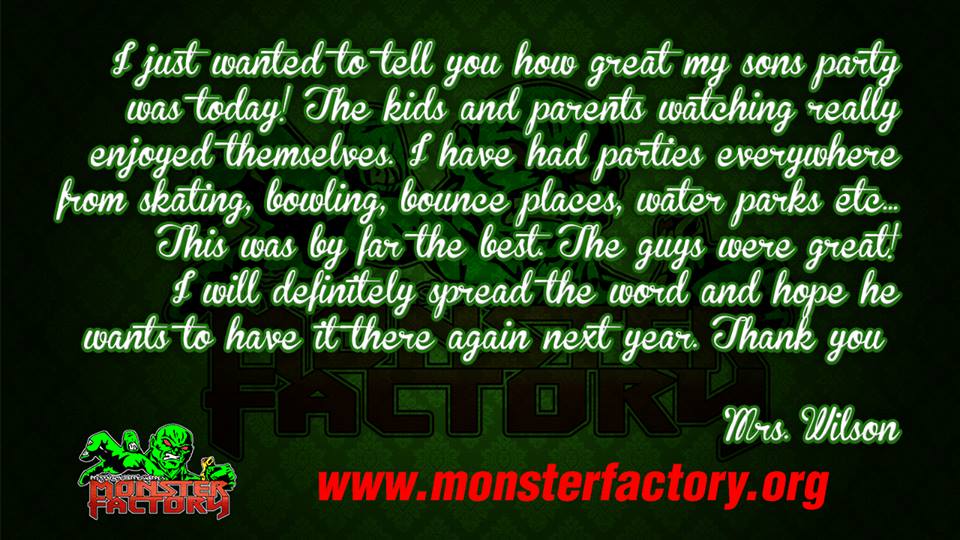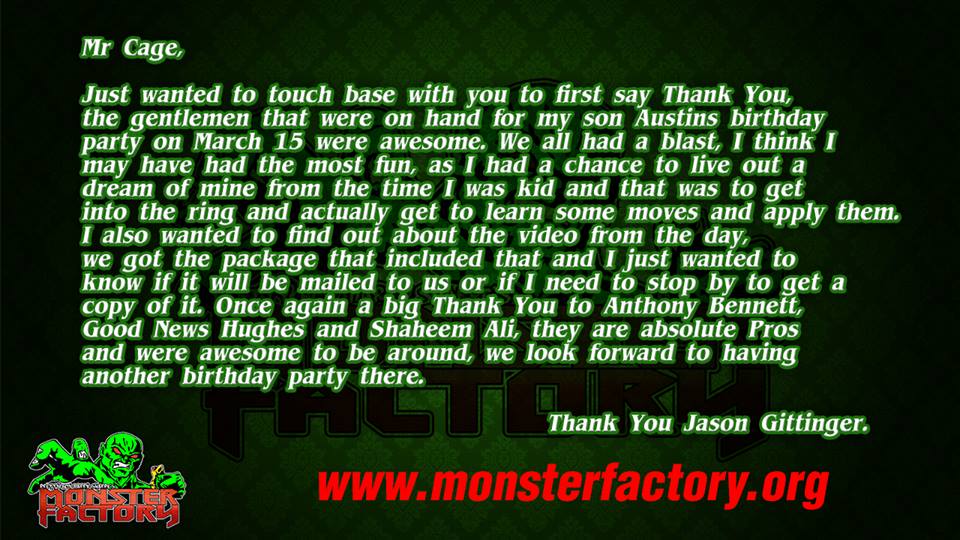 Have you talked to a member of the Monster Factory staff & secured your date & time for your party? Then all that is left to do is to make your security deposit to ensure your party is reserved!
---
It is time that we as a whole train for the future. For our future. For our careers. Finally under one roof you will have the opportunity to learn lessons & training in all facets of professional wrestling. The MF Super Camp is here and is scheduled to begin Friday, April 29th at noon. On that Friday arrive promptly at noon for registration & assignments. The first day runs until midnight. Yes. Midnight at the earliest. For those who need a place to stay, you may lodge at our facility for FREE. Each day we will have sandwiches, water, protein bars & snacks provide to the campers. Saturday begins at 10am & is also the day of a show. Some of the camp participants will have a chance to wrestle. The event is slated for 7pm. All participants will be introduced to the fans of The MFPW during the show. But before that, from 10am-4pm you will be putting in work! Ring conditioning, match study sessions, promos, social media strategies, matches & much more! After the show we will be heading out as a group for a late dinner. Transportation will be provided for all the campers. Then back in Sunday morning. Sunday will be a surprise. Only details are that the camp will conclude at 5pm on Sunday. Those who would like to stay & work out longer or stick around for another night & train with our students on Monday…you are welcome to do so!
This camp is open to those with experience & those with zero experience. Those with no experience will only be allowed to observe. We urge everyone to bring extra tshirts during training and that all gear is clean such as knee pads, elbow pads etc. We have showers at our facility & campers are welcome to use them. Campers who will be lodging at our facility are urged to bring their own sleeping bags or air mattresses, blankets etc. This will be a unique & fun camp. A fantastic place to network & learn new techniques & lessons. All campers should take this opportunity to connect with other campers & coaches. Also a good idea to have promo pictures & other merchandise that you could sell during our event on Saturday.
Any questions, please feel free to contact Danny Cage via cell phone. (609)471-7904 Spaces for the camp are limited & will fill up fast. The cost of the camp is only $150 for three days of training. Enroll now before the spaces are all gone & you miss out on the chance to train here!
---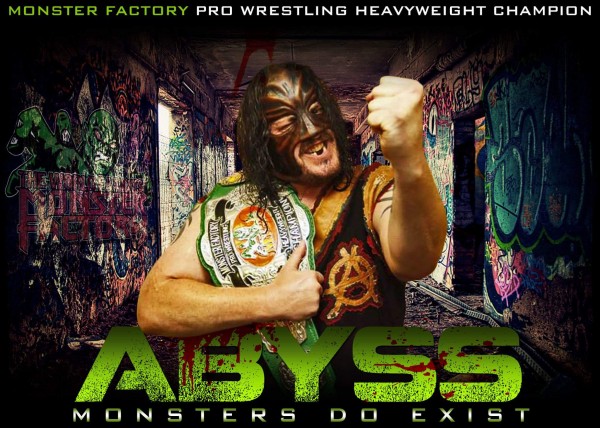 Finally a Network dedicated to professional wrestling! Inside & out! Are you a fan? Perfect! Are you in the business? We have stuff for you too! Looking to train for a career in pro wrestling? This is your one stop shop! Matches, Shows, Training, Seminars, Reality Series, Music Videos, Tips & Lessons, Motivation, Behind the Scenes Footage & more! Sign up now for a FREE 2 Week trial membership!
---